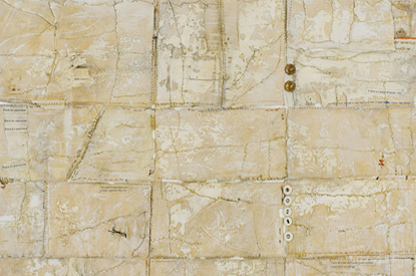 In 2007, I was commissioned by the Clod Ensemble to make an original artwork and run a series of workshops for school children and elders living in London, for a project marking the 60th anniversary of the end of the Second World War.
Salvage
is a map of stories translated into a clay quilt – a large porcelain and paper-clay panel, which is stitched together in much the same way as a fabric patchwork is constructed. In the research and development phase of the making of
Salvage
, I investigated the social effects of rationing with senior citizens (at day centres across Islington and at The Crafts Council on Pentonville Road), in particular the 'Make do and Mend Campaign' advocated by the government during WW2. In the workshops, participants shared their personal memories and experiences of wartime London. I was gifted a number of personal objects by the elders I worked with - a treasured military cap badge, many buttons and some beautiful silk threads amongst them. I incorporated a selection of these personal belongings into
Salvage
. The memories of a pilot who talked about looking down across rural England from his plane at the patchwork of fields below (the piece includes his hat badge), as well as the skill and dexterity still clearly visible within the hands of some of the women who shared with me their dress making skills, are equally and quietly acknowledged in the artwork. The workshops with primary school children were supported by loans of clothes and WW2 artifacts from the Imperial War Museum's Archive. I used buttons as a central theme in the workshops I ran and in the final piece of artwork made, because for so many the button jar records the intimacy of the family's wardrobe over the years. I became interested in reflecting the necessary human inventiveness, skill and resourcefulness people exercised for the greater good during this time - their need to tread gently, with as little consumerist impact as possible. The scale and ambiguity of the surface of
Salvage
reflects the complexity of experiences expressed by the many voices embedded in the artwork.
Salvage
is a gesture of respect - a touchstone of experience that reflects and considers the small and quiet traces of the individual life lived, and at the same time looks outwards and asks how we might live our lives today with some sense of value intact. The making of Salvage was supported by Home Front Recall, part of National Lottery Big Fund; The Cripplegate Foundation and the Crafts Council.
http://www.clodensemble.com/