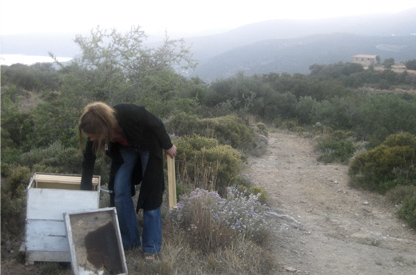 Honeyscribe has recently become a registered charity. Amy Shelton is the Artistic Director For more information please visit www.honeyscribe.com
Melissographia
A second edition of 167 signed numbered copies of the artists' book Melissographia is now available. Please email me if you would like to order a copy of the book. I make each book to order, reserving a number as the order is placed. The first edition of Melissographia sold out in pre-orders in 2010.

Melissographia has been touring with the Poetry Beyond Text: Vision, Text and Cognition Exhibition at University of Dundee, The Royal Scottish Academy, Scottish Poetry Library (Edinburgh), and at other national and international venues. Melissographia has been permanently archived at the Centre For Artists' Books.
Melissographia was recently included in an exhibition of bee art Keep Your Eye on the Doughnut curated by the Bootstrap Bee Company at The Print House Gallery in Hackney, London.
Forthcoming exhibitions are at the Eden Project, Cornwall in October 2014 and an exhibition at The Literary Bureau, Detmold, Germany in the autumn.
The Florilegium: Honey Flow I, II, III, IV (2014) series of light-boxes has been purchased by the Wellcome Collection to be installed in their new restaurant from June 2014.
Other projects I'm working on
BEE MYTHS
I am working on a new series of work as part of my collaboration with John Burnside Bee Myths over the next few months. The work will consist of a series of clay and beeswax panels, a sound piece and a print edition/ folio. More details to follow soon.
TIME AND TIDE by Marcus Vergette
The third bell in the constellation of Marcus Vergette's Time and Tide project was installed on the banks of the Thames at Trinity Buoy Wharf, London, opposite the O2 Arena, on Sunday 19 September 2010. The huge double bell lies near the Prime Meridian at 0° longitude. Fixed in position on the sea wall, it will be rung by the sea at each high tide. As sea level rises with climate change the bell will ring more often and at different stages of the tide.
To hear the bell click on the link below:
http://audioboo.fm/boos/186220-time-and-tide-bell-trinity-buoy-wharf-sept-20-2010
The fourth bell was installed in the spring at Aberdyfi, Wales, on the estuary of the historic River Dovey, and a fifth has just been installed at Cemaes Bay, Anglesey.